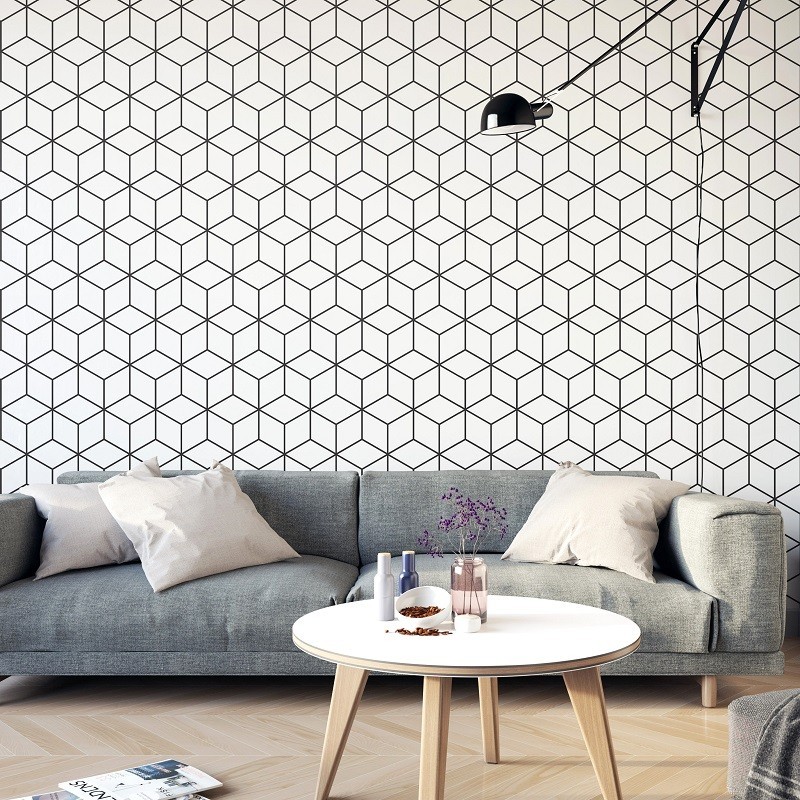 Anyone who plans to renovate or arrange their apartment is undoubtedly considering the appearance of the walls. We have a choice not only of popular paints, but also various wall wallpapers. Many people have found out that they can change virtually any interior in an easy and effective way. Is it really worth choosing wallpapers in the apartment? What patterns work best?
Wall murals – fashionable or outdated?
Many people are afraid of wallpapering the walls in their homes because of bad associations with the past. In the seventies and eighties wallpapers of dubious beauty reigned supreme. In our grandparents' homes, we can still see bland and gloomy floral patterns on every wall of the room. However, the currently available wall murals have nothing to do with the former blandness. In recent years, wallpapers have returned to favor and are hosted in many stylish interiors.
Their undoubted advantage is that they allow you to get a very diverse effect. The multitude of colors and patterns means that even the most demanding people can find something for themselves. The wallpapers will be perfect for the bedroom as well as the living room, dining room, hall or even the kitchen. Wall wallpapers nowadays are made of durable, good-quality materials, thanks to which they not only look beautiful in any interior, but also do not need to be changed for a really long time. We can buy wallpapers in a roll as well as in specific dimensions dedicated to a given room. Wallpapering is a relatively simple and pleasant activity, and the effects can be enjoyed for years. High-quality wallpaper ensures the intensity of colors and the non-abrasion of patterns.
How to use wallpapers in interior design?
The number of wallpaper models available may be a bit overwhelming. There are several important points to consider to make the right choice. It is worth considering first what effect we want to achieve in our apartment. Is the wallpaper supposed to be a strong, distinctive accent in a given room? Or maybe it is intended only as a subdued background for expressive accessories and interesting furniture? The wallpaper should perfectly harmonize with the entire interior. If we are lovers of a minimalist, Scandinavian style, we will surely like wallpapers with geometric patterns in neutral colors.
Fans of botanical motifs can choose wallpaper with a pattern of leaves or flowers. In addition to personal preferences, it is also good to take into account the size of the room and its purpose. When the room is small and cramped, we can optically enlarge the space by using wallpaper that gives the impression of three-dimensional. It is also worth remembering that in small interiors, light colors on the walls work better. If you are interested in wall murals for the bedroom, it is best to choose repeatable, subtle patterns. These will help you relax and calm your mind. When you absolutely want to put on a strong, expressive accent, it should be on only one wall, for example the one next to the bed.
Wallpaper can also be successfully used in the kitchen and bathroom, but then you should pay special attention to the material from which it is made. It must be resistant to moisture and temperature changes. In this case, for example, vinyl wallpaper on non-woven material, which can be easily cleaned with soapy water and a sponge, will work. Which will give the impression of three-dimensional. It is also worth remembering that in small interiors, light colors on the walls work better. If you are interested in wall murals for the bedroom, it is best to choose repeatable, subtle patterns.
The most interesting patterns of designer wallpapers
If we feel lost in a maze of colors and patterns, and structures, it is worth looking for inspiration and ideas that we will then use in our interior. Currently, wall murals with very realistic landscapes, for example those depicting rugged mountains or modern New York streets, are particularly popular. If we want the room to take on a more cozy, warm character, we can choose a patchwork pattern in several colors. For a girl's bedroom, wall murals with cute polka dots – black on a white background or colorful and shiny – are often chosen.
On the other hand, in industrial interiors, wallpapers are often used that imitate natural materials, such as leather, brick, wood or marble. A wallpaper in the form of a collage, for example with clippings from comic books or cartoons, looks very impressive in a modern youth room. Wallpapers with glitter elements look exceptionally elegant and impressive. Ornaments on the wall that shine beautifully in the light of the lamps will create a romantic atmosphere in the bedroom.
Lovers of luxurious, truly royal interiors often opt for exclusive wall murals that are a kind of works of art. Richly decorated, colorful patterns will look best in combination with smooth, subdued wallpapers on other walls. They look especially good in large and spacious rooms decorated in a classic style. Those of us who want the apartment to express their personality and views can decide to decorate their walls with wallpapers with inscriptions. Typographic patterns in black and white are popular, as well as more original ones, such as those that look like the pages of an old book.
Regardless of what style you prefer and how you want to arrange your interior, it's worth using the power of wall wallpapers. Everyone will find exactly what they are looking for among the inexhaustible number of colors, patterns and motifs. With their help, we can easily make our interiors original and unique!